By: Joshua O. Kiefer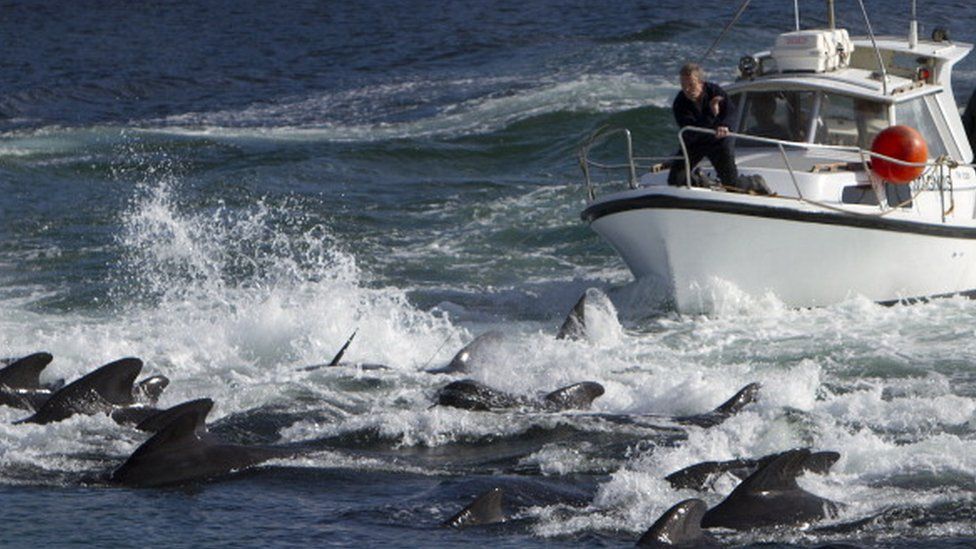 (content warning: graphic description ahead)
A 4 century-old Faeroes tradition killed 1,428 white-sided dolphins on September 12. This tradition has been around for hundreds of years, but environmental activists say it's cruel. The tradition involves boats driving dolphins into shallow water, beaching them, using blowhole hooks to pull the dolphins to shore, and then employing a knife to sever the spine and main artery from the brain which turns the bay red.
The tradition usually kills around 1,000 dolphins and 35 of them are white-sided, but the dolphins that are hunted are not endangered. The people of Faeroes don't have a commercial license but they're authorized to complete their hunt. This year's count was so large even those who protect the tradition were worried. They also worried about any unwanted attention because it took place without the usual organization.
BBC news says the average kill count is averaged around 600 pilot whales and about 35 white-sided in 2020. The previous record was around 1,200 in 1940. Supporters say that this tradition is a sustainable way to get and import food.
Environmental activists deem this tradition as cruel and unnecessary. According to AP NEWS, activists have been trying to fight this since the 16th century and call the tradition "an illegal hunt." Activists say they want to cancel the tradition but will settle for restrictions.